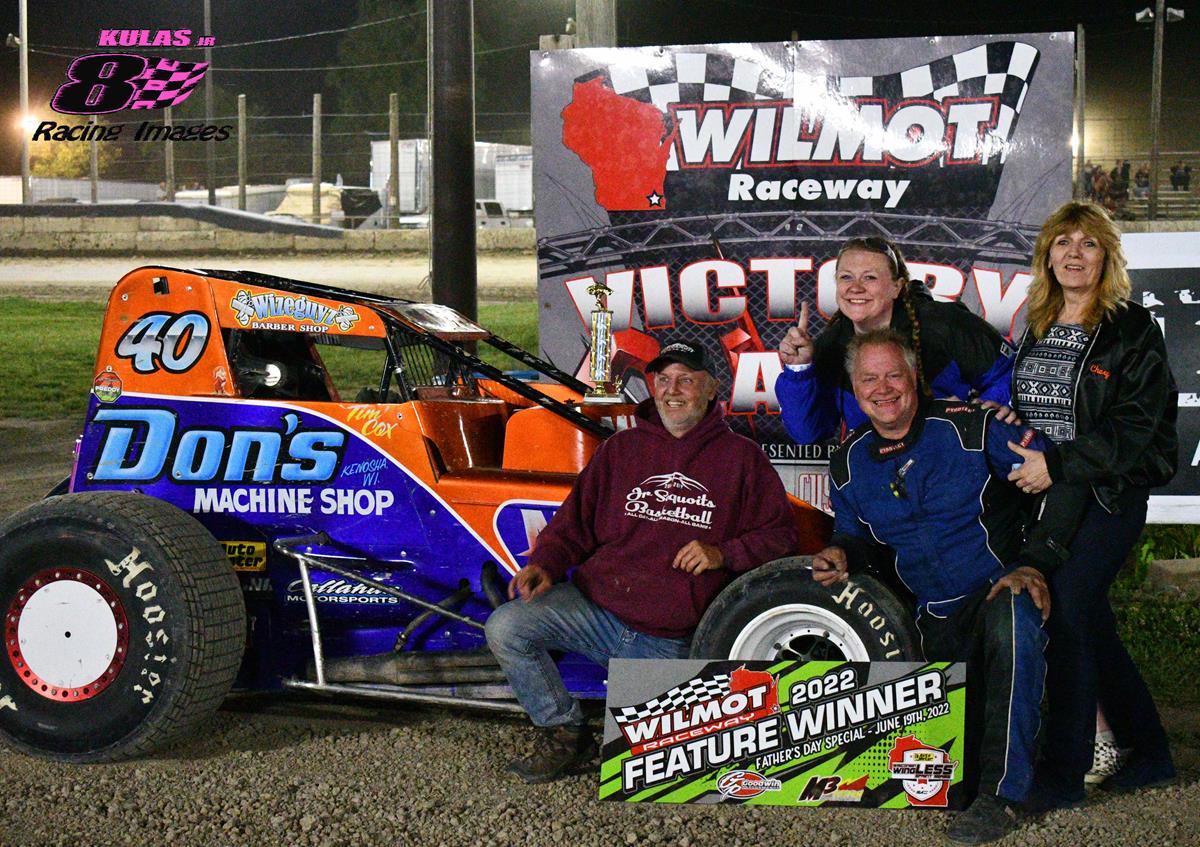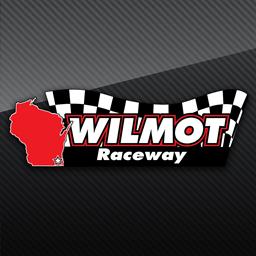 ---
Father's Day Special Thrills and Delights
Genoa City's Nick Simons kept the modified feature wins in the family scoring his second 20-lap main victory of the season to score a late race Father's Day Special Night victory Sunday, June 19 at Wilmot Raceway.
John Cole of McHenry, IL chalked up his second 15-lap Bandit 4-Cylinder Stock Car feature win of the season, also in a late race victory.
Keeping with the evening's theme, Tim Cox of Park City, IL became the third different 20-lap AutoMeter/Brewington Electric Wisconsin WingLESS Sprints 2022 feature winner at Wilmot, also taking the lead in the late going.
Pell Lake's Cody Potter was the lone run away winner on the night becoming the third different Street Stock 20-lap main winner this season at Wilmot.
Eagle's Steve Mueller appeared to be up to the task of five caution periods in the first half of the modified main. Each time N. Simons would choose a different groove for the restart, which got him alongside but not quite far enough to take the lead.
With five laps to go, Mueller hooked the inside berm coming out of turn four getting sideways. That was all N. Simons needed as he powered past into the lead and going onto the win with the feature coming to a halt on a yellow/checkered flag with a turn one tangle after N. Simons had gone over half a lap after taking the white flag. Mueller recovered for second. Milwaukee's David Wirth third. Milwaukee's Don Scheffler fourth. Jason Wirth of Elkhorn fifth.
"I don't know what happened to Steve(Mueller), who seemed to have the race covered," said Mike Simons Sr., Nick's Dad, in a unique post race interview as Nick dropped the car off in victory lane, then jumped into the water truck to do some track prep which he oversees all week along with his Father and Jim Kuenhold. "Mike III(Nick's brother, who had won the last two modified features) broke an A-frame which knocked him out on the opening lap accident. At least it's still in the family. Nick won on Mother's Day weekend and now again on Father's Day. That's pretty cool."
Salem's Ryan Johnson weathered a series of five cautions which slowed the pace of the 15-lap Bandit feature, each time staying in the lead. Cole, who started seventh in the 21-car field, gradually worked his way into contention. On the white flag lap, the two went side by side virtually the entire way around the 1/3-mile clay oval. Coming out of turn four for the checkered, Cole shot to the win by less than a car length over Johnson scoring his second feature win of the season. Pleasant Prairie's Scott Ellis Johnson was third. Mt. Pleasant's David McKellips fourth. Pleasant Prairie's Scott Carpenter fifth.
"It was great running with Ryan like that," said Cole. "It means a lot to win on Father's Day. I especially thank my wife Danielle for all she does for my racing."
Rusty Egan of Round Lake Heights, IL started from the pole of the WingLESS feature which was restarted after an opening lap red flag when Burlington's Mike Sullivan flipped end over end in turn one. This marked the second week in a row which Sullivan, who walked away, flipped, this time in his "backup car."
Egan rocketed out into the lead and appeared comfortably in front until a final red flew when Trevor's Jordan Paulsen flipped over a disabled car heading into turn one with 11 laps remaining. Paulsen walked away.
Cox worked into the front coming out of turn four with five laps to go, overtaking Egan who it turns out had a tire going low. At the finish it was Cox picking up his first feature win of the season. Jimmy Sivia of Winthrop Harbor, IL was a fast closing second. Zach Raidart of Gurnee, IL third. Kansasville's Ryan Marshall fourth. Nathan Crane of Waukegan, IL, who started 17th after winning the first of twin "B" mains, finished fifth. Egan ended up seventh.
"It's great to win on Father's Day, even though my Dad isn't with us any more," said Cox. "Mom is here and so is my family. I am dedicating this season to a dear friend of ours who passed away from cancer."
"We're working on something, so you might very well see me in two cars next week," said Cox, noting he may run the Wisconsin WingLESS car and also a car in the traveling USAC Non-Wing Sprint Car Invasion which is coming to Wilmot for the first time in over a decade on Saturday, June 25.
Early race crashes kept slowing the pace in the 20-lap street stock main and adjusting the line-up as some of the front starters were involved. Potter was in the right place at the right time and once the green stayed out, he shot to the front. Three cautions kept erasing his lead in the final half of the event, but each time Potter was up to it. At the finish it was Potter, Cody Erickson of Algonquin, IL second. Brandon Mertes of Antioch, IL third. Big Bend's Mark Baker fourth. Muskego's John Sidesky fifth.
"When you have yellows like that, it takes you out of your rhythm," said Potter, who is focusing this season on asphalt racing and brings out his 57 Chevelle Replica on night's off. "I just focused on hitting my marks. It worked and it's great to get a win."
Wilmot Raceway will host the USAC Non-Wing Sprint Car Invasion on Saturday, June 25 featuring the national traveling stars and cars coming to Wisconsin's original home of sprint car racing for the first time in over a decade. The AutoMeter/Brewington Electric Wisconsin WingLESS Sprints are on the program at their home track as well. Modifieds round out the evening's special event card.
Grandstands will open an hour earlier than normal at 4:00 p.m. with on track activity getting underway about 5:30 p.m. and racing to follow. Grandstand tickets are $30.00 for ages 12 and over, $5.00 for ages 7-11, with ages 6 & under admitted free. The Pits will open at 2:00 p.m. with pit passes being $35.00. Advance grandstand tickets are available through the link on the track web site at wilmotraceway.com. For updates and further information check the trackside race line 262-862-2090 or the official Wilmot Raceway Facebook page.
---
Article Credit: Mike Babicz
Submitted By: Dakoda Tennyson
Article Media
Back to News