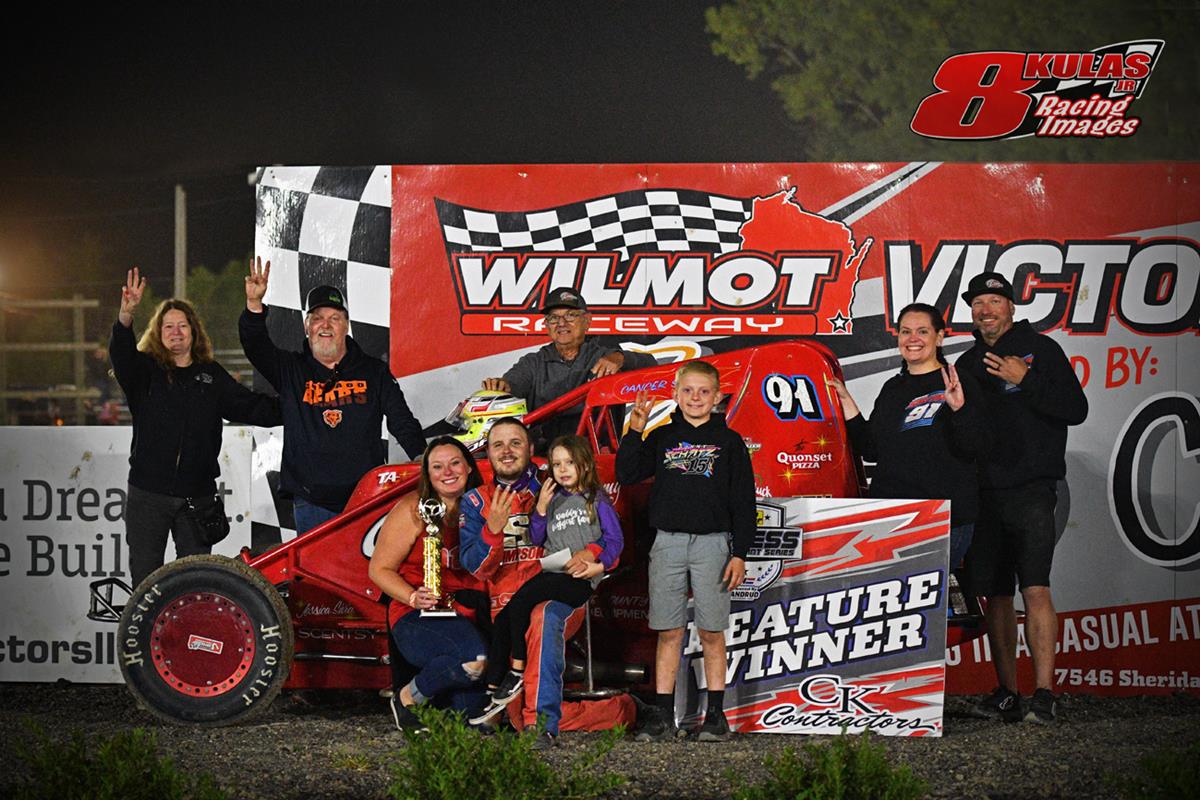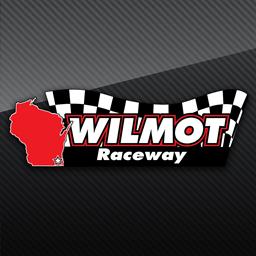 ---
Wilmot Champions Are Crowned
Wilmot Raceway crowned a five-time Street Stock Champion in Rob Maule of Hebron, IL. Four-time Pfeiffer Trailer Sales IRA Lightning Sprints Champion is Mark Heinert of Waukesha
The 2022 IRA Wingless Series Champion and 2021 Wilmot and IRA Rookie of the Year Clayton Rossmann of Wadsworth, IL, 2021 Wilmot Rookie of the Year at age 15, took his first CK Contractors/AutoMeter Powered By Gandrud Performance Parts Wisconsin Wingless Sprints Championship at Wisconsin's home for sprint car racing.
Second generation driver Joel Seegert of Sheboygan captured his first ever title of any kind taking the Wilmot Modified Championship after taking a season off from racing completely last year.
All of the titles were recognized as part of the 2023 Championship Night Saturday, September 9 at Wilmot on the Kenosha County Fairgrounds in Wilmot, Wis.
One final title will be crowned on Saturday, September 16 with the Bandit 4-Cylinder Stock Cars 2023 Champion honored after their final points races. Ryan Johnson of Salem is comfortably atop the standings in quest of his second Wilmot title having taken it in 2019 as a rookie.
Bandit drivers will have an autograph session on the grandstand side from 5:30 until 6:30 p.m. The first 50 youngsters coming to the grandstands will receive a complimentary checkered flag courtesy of Happ'y Services of Burlington. A candy drop open to youngsters ages 14 and under will be held following the National Anthem Ceremony. The Track at Burlington RC Hobbies is a partial sponsor for the candy along with an anonymous donor.
Joining the Bandits in non-points racing will be open competition Non-Wing Sprint Cars, Crate 604-Winged Sprint Cars and Modifieds.
Grandstands open at 5 p.m. with on-track activity getting underway between 5:30-6 p.m. and racing slated for 6:45 p.m. following the candy drop which will be on the grandstand side. Grandstand admission is $20.00 for everyone ages 12 and over. Ages 11 and under will be admitted free. Pit gates open at 3 p.m. with pit passes being $30.00, $25.00 for IRA card holders.
In season finale action for the four classes which ran on September 9, Kenosha's Ryley Newberry led the opening circuit of the 20-lap street stock main with Craig Mertes of Antioch taking point on lap 2. Maule shot in front breaking through a three-wide battle with C. Mertes and his son Brandon Mertes of Salem on lap 4. Caution flew just after Maule's move as C. Mertes,
while running second, got sideways in turn three collecting two additional cars.
Maule maintained the lead on the restart with a final yellow erasing a large advantage with nine laps to go. Three laps later, Kenosha's Blake Kreuser, who was second in points to Maule going into the night, took over runner-up in the feature. Maule was up to the challenge scoring his fourth feature win of the season. Kreuser's bid to catch the front runner in both the race and season hunt failed, ending up second on the track by about three car lengths and second in final point standings by 10, the same way the two started he night.
B. Mertes finished third, Pleasant Praire's Josh Gehrig fourth. Robby Olson of Lindenhurst, IL fifth.
"This is the result of a lot of support from sponsors, my daughters, my kids pit crew, and especially my wife, Brooke," said Maule, following a clean sweep on the final street stock night of the season having posted quick time in qualifying, winning his heat and the main. "There was a lot of long hours in the garage this past week after braking the rear end while leading the feature a week ago. Championships aren't easy, but this makes all the sweat and long hours worth it. Appreciate the fans who support us and everybody here at the track who works to give us a place to race."
Tim Brannam of Holiday Hills, IL took an early lead in a hotly contested 20-lap Lightning Sprints feature. The battle within the war between Waukesha's Mark Heinert and Nick Petska of Spring Grove, IL had the two separated by a dozen points with Heinert in the lead going into the feature. A lap 14 red flag for a flip by Dominick Swierad of Crystal Lake, IL at the entrance to the pits off turn one brought the action to a brief halt. Swierad was uninjured.
Max Brannam of Holiday Hills had taken the lead from his dad, Tim Brannam, just prior to the red. The younger Brannam hugged the inside groove while Heinert was in close pursuit along with Petska as the laps wound down. With seven to go, Petska shot to the high side working past M. Brannam as the two split lapped traffic. Petska scored his second feature win of the season with M. Brannam chalking up a career best second. Heinert's third place was enough to win his fourth Wilmot title by 8 points. Brian Strane Jr. was fourth. Genoa City's Jacob Irwin came across a Wilmot career best fifth.
"Max was hugging the bottom, so I knew I had to give the outside a shot after the red," said Petska. "I knew Mark was close because I could see his number on the scoreboard. I could only do what I could do. I have to thank Larry Neau for the opportunity to drive one of the Dream Chaser Racing Team cars this season, and I congratulate fellow team driver Mark in the championship."
"I knew what I had to do to try to keep Nick behind me in points," said Heinert, who is in position to take his first ever overall IRA Lighting Sprints traveling series title with races left at 141 Speedway on September 16 and the Wisconsin Sprint Championships on September 30 at Plymouth Dirt Track. "I knew it could end up close, but it was fun running with him all season. I have to thank Larry for the opportunity to race in my 25th season. I have to thank my wife, Michelle, my dad and our two daughters who are finally old enough to realize what daddy is doing when he wins a championship as the other three were in 2015, 2017 and 2018 here at Wilmot. I thank all of the sponsors and these fans as well."
The 20-lap Wingless feature saw some of the wildest action on the 3/8-mile oval in recent years. Kansasville's Ryan Marshall, the 2023 Steel Block National Champion, jumped out in front from his outside row one starting spot. A caution flew on lap 7 when Oconomowoc's Ryan Zielski, who was within striking distance of Marshall to finish second in season points, broke in turn two as the mechanical woe ended his night the possible runner-up finish.
On the restart, Allen Hafford of Beach Park, IL along with Jimmy Sivia of Winthrop Harbor, IL came up to Marshall's tail as a top five pack less than 3-4 car lengths apart kept slide jobbing in every corner swapping spots. Bristol's Chris Klemko and Zack Raidart of Gurnee, IL were in the melee of car swapping positions as well.
A final yellow flew with seven laps to go for another car just after Clayton Rossmann, who had already clinched his second Wilmot title on his 18th birthday, as the Zion-Benton High School senior running with the lead five, shot to the inside in turn four, got completely airborne going over a infield tire on the edge of the track, came down and kept going in an amazing move.
Sivia went to the inside to overtake Marshall on the restart in turn one. With five laps to go, Marshall retook the lead as the two went side by side slide jobbing back and forth virtually around the entire track. Then Sivia went back in front on the next circuit but the passing was not over. Marshall retook the lead again. On the white flag lap it was anyone's race with the top two having Hafford waiting for an opening as the three were less than one second apart.
At the checkered it was Sivia taking his third Wilmot win of the season by a couple feet with Marshall second. Hafford was right behind in third with Klemko fourth and Raidart fifth as the top five were less than a half of a straightaway apart.
"That was amazing," said Sivia following a couple of victory donuts on the front straightaway. "Ryan and I have been racing against each other since we were kids in go karts. Battling like that was awesome and a great way to finish the season here at our home track. This is home and I have to thank the fair board, staff, everybody who gives us a place to race and have fun. These fans are awesome too. My family who supports me as well, especially my wife Jessica, and the great crew we have of friends. This is what racing is supposed to be all about."
"I knew I had it wrapped up by just being here, but I still wanted to win or at least contend on my last night running here," said Rossmann, a second generation driver whose dad, Pat, won several street stock championships at Wilmot. "I got to the inside, then hooked something and when the car came down broke something in the front end making it a handful to steer. I wanted to finish on the track so recovering for a top 10 isn't all bad(9th) but I feel we had a car that could have won or been up there."
"I have to thank my parents who are the major force behind me, all of our great sponsors, the crew, and these great fans," said Rossmann. "I never would have dreamed when I was racing karts that I would win a wingless sprint feature here at Wilmot at sprint car racing's home at age 15 then securing a first ever Wilmot regular season championship on my birthday, I still can't believe I have done all of this in three years of racing these cars. Next week we're running a 410 wingless out of state, but we will be back for the last two IRA Wingless shows at Plymouth on September 23 part of the Wildman Watson Classic and back there again on September 30 with the Wisconsin Sprint Championships."
Joel Seegert took the early lead in the 20-lap Modified feature with Eagle's Steve Mueller going in front on lap 13 after a side by side dual. The only caution flew just after Mueller's move. Union Grove's Joel Crowbridge made it a three-way, and sometimes three-wide battle for top spot.
Coming for the checkered flag out of turn four Crowbridge edged out second place Mueller for the win. Bart Sievert of West Allis took third in a close finish with David Powers of Woodlawn, TN fourth. Seegert was fifth
"The car took off just at the right time," said Crowbridge, who won both the opening points night feature back in May and the final points night main, bookending the season. "Steve is a great guy to run with. I run with him at several other tracks too and he always races clean and with respect. This was fun. I have to congratulate Joel on the championship. As kids we used to see in the stands, including here at Wilmot, and watch our dads race. I am very happy for him."
"The first championship in anything surely means a lot," said Seegert, whose dad, Gordie, raced late models at Wilmot years ago. "Our team works really hard and this makes all of those long hours in the garage pay off. Having Dad part of the team is really special. We didn't even know if we were going to race this year after taking a year off last season. We put this deal together with a lot of help from sponsors. Without their support, we wouldn't be here. We thank the fans and everybody here at Wilmot for having us here."
For updates phone the trackside raceline 262-862-2090, check the official website wilmotraceway.com or the official track Facebook page.
---
Article Credit: Mike Babicz
Submitted By: Dakoda Tennyson
Article Media
Back to News