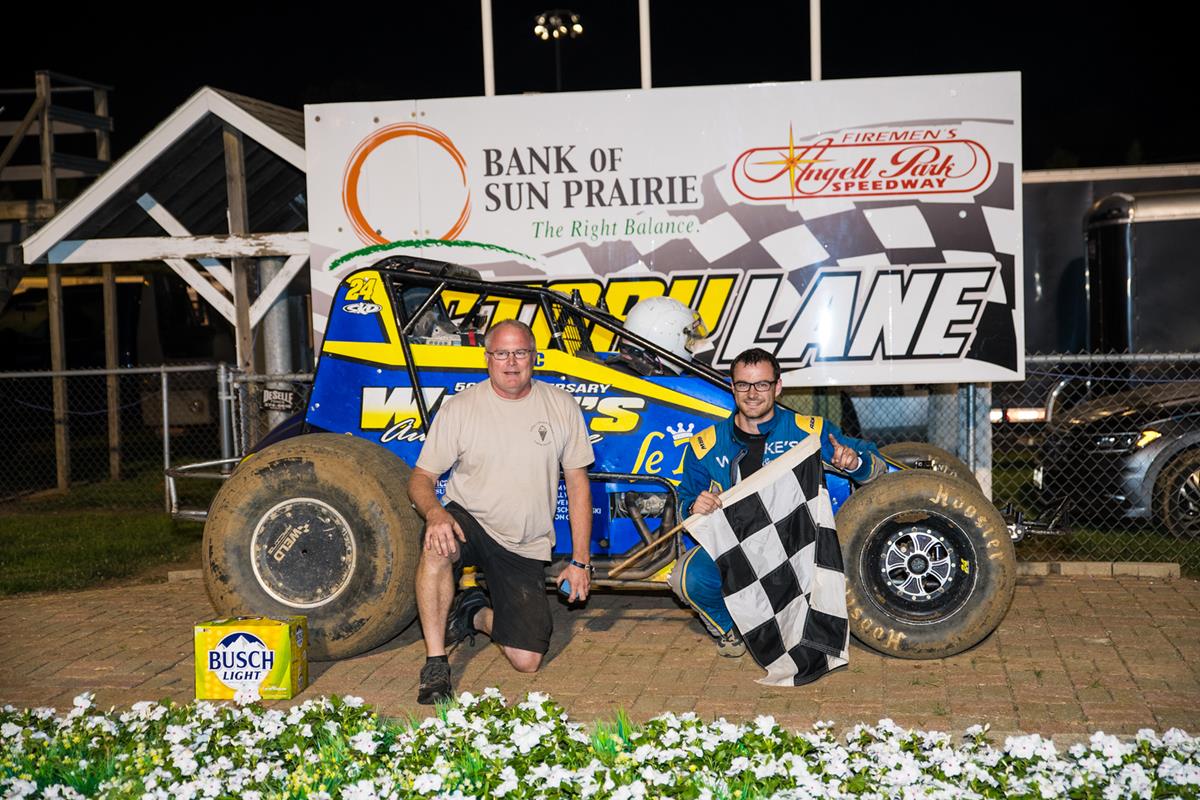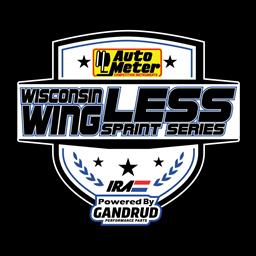 7/31/2023
Wisconsin wingLESS Sprints
---
Wilke Conquers Angell Park, Wins First Feature of Career
Sun Prairie, WI (7/31/2023) - Eric Wilke has always said he loves Angell Park, even calling it, "our favorite track". Some poor luck in the first two races of the season at Angell Park marred Wilke, but the stars aligned for him on the third try as he picked up his first AutoMeter Wisconsin WingLESS Sprints feature win of his career.
24 cars made the trip to Sun Prairie. The night started off with Ryan Zielski going quickest in the joint hotlap and qualifying session with a 14.716. Tim Cox, Allen Hafford, Clayton Rossmann, and Chris Klemko rounded out the top five.
Heat racing action saw Ryan Zielski pick up the win in the first heat followed by Derek Crane and Clayton Rossmann. Heat 2 saw John Fahl on top with Tyler Kuxhouse and Chris Klemko behind him. Jimmy Sivia won heat 3 with Allen Hafford and Eric Wilke second and third.
The A-Main for the AutoMeter Wisconsin WingLESS Sprints rolled off last after some track work and it looked fast. Bryce Andrews and Jimmy Sivia started from the front row. The green flag was thrown but would shortly be replaced by a yellow as Ryan Zielski and Tim Cox tangled down the back straightaway, which also collected Austin Hansen. Hansen got the worst of it, having to be towed off the track while Zielski and Cox pushed back off and joined the tail of the field. The green flag came back out and Sivia got the better start as third place starter John Fahl made his way past Andrews for second. Sivia and Fahl battled for the lead while a battle behind them between Chris Klemko and Eric Wilke commenced. Wilke would get the best of Klemko and work his way up to the top two cars, making it a three car battle for the lead. Heartbreak would strike for Sivia as he struck a tractor tire in turn four, causing his front left tire to break free, ending his night prematurely. The field refired with Wilke in the lead, Fahl second, and a fast Clayton Rossmann third. Wilke was able to keep Rossmann and the "zero hero" Fahl behind him coming to the white flag, but a stopped car in turn four would result in a green-white-checkered situation. Wilke, last season's rookie of the year, had one of last season's co-champions in Rossmann behind him, and one of his best friends in John Fahl behind him. Wilke was cool and collected on the restart, as he drove away from both of them, and into the night to pick up his first ever AutoMeter Wisconsin WingLESS Sprints feature win, and his first feature win of his career. Rossmann came home second and Fahl third, with Zielski coming back from his earlier incident to finish fourth and Jake Kouba fifth. In victory lane, Wilke ran to his dad and celebrated, saying, "This is awesome, I love this place."
The AutoMeter Wisconsin WingLESS Sprints return to Wilmot Raceway on August 5th for a month full of Wilmot, before heading to Sycamore Speedway, Wilmot Raceway, and the Plymouth Dirt Track in September.
For more information visit wisconsinwingless.com or visit the series on Facebook today.
Photo Credit: Roy Ophime Photography
Summary
24 Entries
A Feature 1 20 Laps | 00:29:09.700
24-Eric Wilke[5]; 2. 09-Clayton Rossmann[7]; 3. 0-John Fahl[3]; 4. 14Z-Ryan Zielski[10]; 5. 6-Jake Kouba[12]; 6. 22-Greg Alt[14]; 7. 70-Chris Klemko[6]; 8. 99J-Seth Johnson[13]; 9. 38-Allen Hafford[8]; 10. 14AJ-Derek Crane[4]; 11. 17-Bryce Andrews[1]; 12. 57F-Tristan Furseth[15]; 13. 40-Tim Cox[9]; 14. 711-Tyler Kuxhouse[11]; 15. 29J-Ralph Johnson[17]; 16. 7-Trinity Uttech[22]; 17. 12-Shawn Swim[18]; 18. 29OG-Tom Eller[23]; 19. 7D-Josh Davidson[16]; 20. 4G-George Gaertner III[21]; 21. (DNF) 66-Tommy Colburn[19]; 22. (DNF) 91-Jimmy Sivia[2]; 23. (DNF) 13-Terry Starks[24]; 24. (DNF) 11-Austin Hansen[20]
Heat 1 8 Laps | 00:03:48.411
14Z-Ryan Zielski[4]; 2. 14AJ-Derek Crane[2]; 3. 09-Clayton Rossmann[3]; 4. 99J-Seth Johnson[5]; 5. 17-Bryce Andrews[1]; 6. 29J-Ralph Johnson[6]; 7. 7-Trinity Uttech[8]; 8. 29OG-Tom Eller[7]
Heat 2 8 Laps | 00:05:54.416
0-John Fahl[2]; 2. 711-Tyler Kuxhouse[1]; 3. 70-Chris Klemko[3]; 4. 40-Tim Cox[4]; 5. 57F-Tristan Furseth[7]; 6. 12-Shawn Swim[8]; 7. 11-Austin Hansen[6]; 8. 66-Tommy Colburn[5]
Heat 3 8 Laps | 00:03:58.247
91-Jimmy Sivia[2]; 2. 38-Allen Hafford[4]; 3. 24-Eric Wilke[3]; 4. 6-Jake Kouba[1]; 5. 22-Greg Alt[6]; 6. 7D-Josh Davidson[5]; 7. 4G-George Gaertner III[7]; 8. 13-Terry Starks[8]
Qualifying 1 | 00:03:22.279
14Z-Ryan Zielski, 00:14.716[23]; 2. 40-Tim Cox, 00:14.776[3]; 3. 38-Allen Hafford, 00:14.935[4]; 4. 09-Clayton Rossmann, 00:14.950[9]; 5. 70-Chris Klemko, 00:14.979[8]; 6. 24-Eric Wilke, 00:15.044[15]; 7. 14AJ-Derek Crane, 00:15.187[14]; 8. 0-John Fahl, 00:15.199[13]; 9. 91-Jimmy Sivia, 00:15.204[11]; 10. 17-Bryce Andrews, 00:15.293[1]; 11. 711-Tyler Kuxhouse, 00:15.396[16]; 12. 6-Jake Kouba, 00:15.417[24]; 13. 99J-Seth Johnson, 00:15.456[22]; 14. 66-Tommy Colburn, 00:15.469[12]; 15. 7D-Josh Davidson, 00:15.482[7]; 16. 29J-Ralph Johnson, 00:15.520[19]; 17. 11-Austin Hansen, 00:15.533[2]; 18. 22-Greg Alt, 00:15.535[10]; 19. 29OG-Tom Eller, 00:15.546[21]; 20. 57F-Tristan Furseth, 00:15.634[6]; 21. 4G-George Gaertner III, 00:15.810[18]; 22. 7-Trinity Uttech, 00:16.042[5]; 23. 12-Shawn Swim, 00:16.443[20]; 24. 13-Terry Starks, 00:17.364[17]
---
Article Credit: Zack Krueger
Submitted By: Zack Krueger
Back to News