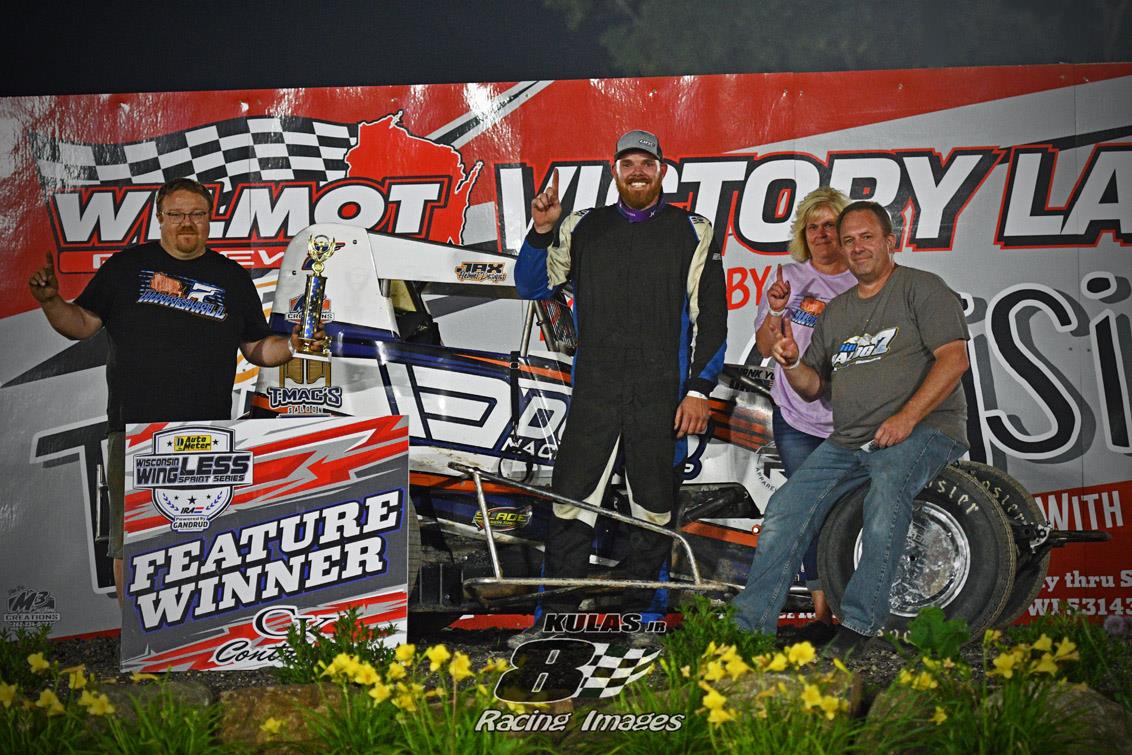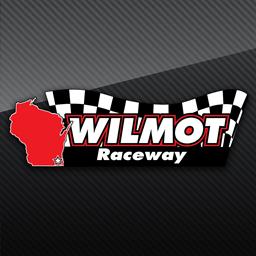 ---
Marshall Finally Conquers Wilmot in 2023 Season
A pair of 2023 first time winners this season at Wilmot Raceway along with two third time winners highlighted a wild Family Night Saturday, July 15.
Kansasville's Ryan Marshall became the fourth different 20-lap CK Contractors/AutoMeter Powered by Gandrud Performance Parts feature winner going wire to wire to take his first Wilmot main win this season.
A caution with nine laps remaining followed by another with four laps to go kept Marshall under pressure from Oconomowoc's Ryan Zielski. The second yellow came when Trevor's Chris Dodd, who was running fourth, got completely airborne in turn one landing hard on all four wheels. Dodd was not injured.
Marshall stuck to an inside line in turns one and two, while drifting a little higher in three and four, to keep Zielski behind. At the checkered it was Marshall by about a car length with Zielski second. Clayton Rossmann of Wadsworth, IL was third. Brown Deer's John Fahl fourth. Rusty Egan of Round Lake Beach, IL fifth.
"That was fun," said Marshall. "I hope it was as much fun for the fans to watch as it was for me in the car. We've had our struggles this year, but finally got everything together to get a win here at our home track. I have to thank John Curcio, my crew chief, and Eddie and Debbie Boyd of MLS Automotive, my car owners, for giving me the opportunity. And my mom and dad, too."
Nick Petska of Spring Grove, IL became the fourth different 20-lap Pfeiffer Trailer Sales IRA Lightning Sprints feature winner, but it took a while to work his way to the front.
Tim Brannam of Holiday Hills, IL started in the front row and maintained the point through three red flag periods for flips. The first came on lap 5 when Franklin's Josh Rehberg went over in turn two while running third. The next came on lap 7 when David Powers of Woodlawn, TN went over in turn one. The final stoppage came on lap 13 when Oak Creek's Mark Heinert caught the wheel of a lapped car coming out of turn two while running third and battling with Petska and Tim Brannam for the lead. None of the drivers were injured.
Tim Brannam and Petska battled wing to wing from the final restart until two laps to go. Petska shot to the outside in turn four and pulled away. Tim Brannam finished second. Ron Brannam of Barrington, IL, Tim's father, was third. Brian Strane Jr. of Paris was fourth. John Kirk of Johnsburg, IL fifth.
"I am tired," said Petska as he exited the car in victory lane. "The track was challenging, and I was waiting for Tim to make a mistake. He ran me clean, and it was a lot of fun. Finally I got the chance I needed when he bobbled just a little in the turn and I was able to make it stick. I have to thank Larry Neau and dream chaser racing for giving me the opportunity to run this year, even if it is part-time."
Eagle's Steve Mueller won his third Wilmot 20-lap modified feature of the season, but it was not easy as he pulled into victory lane with a shredded left-rear tire.
Mueller took the lead briefly two laps into the main, overtaking New Berlin's Dustin Jackson. A yellow flew on the next lap when Jackson and West Allis' Bart Sievert tangled in turn one while running third and fourth.
Three laps after the restart, Genoa City's Mike Simons powered in front using the outside in turn two. Yellow flags on laps 8 and a final with six laps to go set up a wild restart attempt. Coming for the green, M. Simons got sideways coming out of turn four and his brother, Nick Simons, ended up with his car underneath Mike's. Several other cars tangled while trying to avoid the melee.
Mueller was able to get through, inheriting the lead on the ensuing restart. The final six laps stayed green with Nick Simons coming within striking distance on the white flag lap and his brother, Mike, also in contention. At the checkered it was Mueller the winner by less than half a car length. N. Simons ended up second. M. Simons third. Sheboygan's Joel Seegert fourth. Kenosha's Cory Lightfield fifth.
"I'm not sure what happened on the restart or how I ended up with a flat tire," admitted Mueller. "I like racing Nick and Mike, and all of the guys here, because they run hard but clean. The third win wasn't easy, but we'll take it."
Salem's Ryan Johnson took the lead from Silver Lake's Ricky Nelson on the third lap of the 20-lap Bandit 4-Cylinder Stock Car feature. Johnson weathered yellows on laps 5 and 8, with Watertown's Devon Dixon closing in. Dixon appeared to break something on the front end causing the car to come to a stop on the high side in turn two with six laps to go. A front straightaway tangle as the yellow was coming out resulted in Salem's Austin Orth's car rolling several times. Pleasant Prairie's Scott Carpenter's car wound up landing on top of Orth's resulting in a red flag. Neither driver was injured, and ironically, Orth is Johnson's brother.
Johnson went on to chalk up his third main event win of the season. David McKellips of Mt. Pleasant took second. Pleasant Prairie's Steve Ellis third edging out his son, Scott Ellis of Lake Villa, IL, who took fourth as they crossed side by side. Union Grove's Carrie Willms was fifth.
"This is fantastic," said Johnson, joined by his family in victory lane. "This is the first time I won three features in a season since my championship year, and first year, in 2019. I don't know what happened to Devon, but I knew he was coming. I found the right spot for me to run and kept it there. I thank all my sponsors and family for all their support."
Wilmot Raceway is off until Saturday, July 29 when the 10th Annual Bumper to Bumper Interstates Racing Association(IRA) Founder's Night presented by Body Craft of Antioch, IL is slated. IRA Founder's Night recognizes the three original founders of the IRA, the late Ray Toft, the late Junior Dodd, and Whitey Harris, who began the IRA over 50 years ago. Wilmot Raceway is the original home track of the IRA.
Founder's Night IRA feature winners whose names are on the perennial trophy sponsored by the Southeastern Wisconsin Short Track Racing Hall of Fame and displayed in the HOF in Hartford are Dale Blaney who won the initial two main events in 2014 and 2015 when it was co-sanctioned with the All Stars. Bill Balog is a three-time winner in 2016, 2017 and 2020. Jake Blackhurst won in 2018. Jeremy Schultz in 2019. Scott Nietzel in 2021. Jordan Goldsberry last year in 2022.
Joining the 410-winged outlaw sprints will be the CK Contractors/AutoMeter powered by Gandrud Performance Products Wisconsin Wingless Sprints and the Pfeiffer Trailer Sales IRA Lightning Sprints. Body Craft owners Mark and Tony Maglio have added prize money to all three divisions.
Several Vintage IRA cars from past years, along with a few surprise guests, will be on the grandstand side throughout the evening. Grandstands open at 5 p.m. with on track activity getting underway about 6 p.m. and racing to follow.
Grandstand admission is $25.00 for ages 12 and over, $5.00 for ages 7-11, with ages 6 and under admitted free. Pit gates open at 2 p.m. with all pit passes being $35.00.
Advance grandstand tickets are available on the track website at wilmotraceway.com Tickets are available at the ticket office on race night as well. Updates are available on the website, official Wilmot Raceway Facebook page or on the trackside raceline 262-862-2090.
---
Article Credit: Mike Babicz
Submitted By: Dakoda Tennyson
Article Media
Back to News