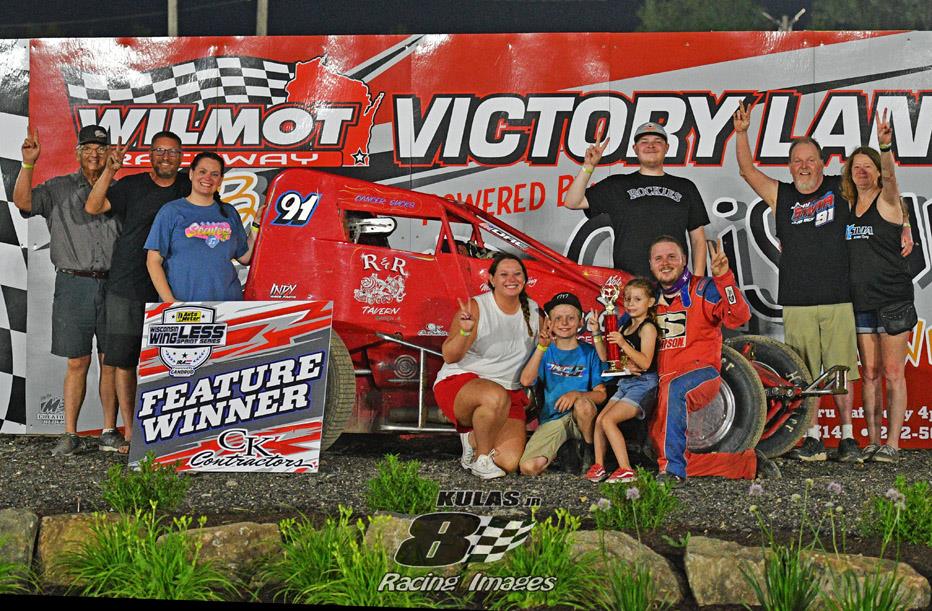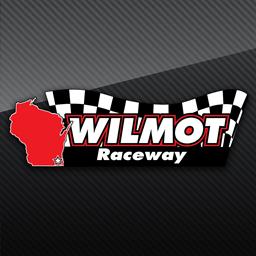 ---
Sivia Lights up the Night Sky on Independence Weekend
One new feature winner and three duplicate main winners highlighted the Wilmot Raceway traditional Car Load & Fireworks Independence Day Holiday Spectacular Night on Saturday, July 1.
Genoa City's Nick Simons scored his first 20-lap Modified feature win of the season. N. Simons overtook early race leader Joel Seegert of Sheboygan nine laps from the finish in the non-stop main. N. Simons was able to work some lapped traffic and pulled away to the win. Genoa City's Mike Simons, Nick's younger brother, finished second. Seegert was third. Union Grove's Joel Crowbridge fourth. Racine's Chris Carlson was fifth.
"I have to thank my sponsors, crew, but this win is dedicated to my mom(Terry Simons) who underwent her last chemo therapy this past week to beat cancer twice," said an emotional N. Simons as he was joined in victory lane by both of his parents. "This win is very special and it is for her."
Rob Maule of Hebron, IL won his second 20-lap Street Stock feature of the season in a hotly contested battle which involved as many as three and four cars going for the top spot for a while. Pell Lake's Cody Potter went to the outside to take the lead working past both Maule and Kenosha's Blake Kreuser five laps into the feature as those two were battling side by side.
A red flag with 7 laps remaining when a car had a fire in the engine compartment set up a sprint on the restart. Maule went to the outside and overtook Potter through turns three and four. Maule went on to the win. Potter was second. Kreuser third. Salem's Brandon Mertes fourth. Antioch's Craig Mertes fifth.
"This win is dedicated to the Ostergaard family, who lost Neal during the offseason and then recently, Chuck's wife, Pat, Neal's sister-in-law, passed away also," Maule said, fighting back tears in victory lane. "If it weren't for the Ostergaard family, I wouldn't be racing and my career wouldn't be where it is today."
Jimmy Sivia of Winthrop Harbor, IL won his second 20-lap CK Contractors/AutoMeter Wisconsin Wingless Sprints powered by Gandrud Performance Parts Feature in a row at Wilmot, but not without a highly contested three-way battle.
Allen Hafford of Beach Park, IL took the initial lead, but a red flag flew on the second circuit when George Gaertner II of Salem went over the wheel of another car flipped end over end in turn three. Kansasville's Ryan Marshall shot to the inside down the backstretch taking the lead with four laps to go. A final caution came three laps from the finish setting up a wild battle in the closing laps coupled with a red flag after the checkered.
Sivia, who had gone side by side with Marshall and Hafford several times during the last 10 laps of the feature, shot into the lead coming out of turn four at the white flag. Sivia fended off a last ditch slingshot move by Marshall coming out of turn four for the checkered to score the win. Marshall was second by less than a car length. Hafford charged across in third. Clayton Rossmann of Wadsworth, IL was fourth. Oconomowoc's Ryan Zielski was fifth.
As the back of the field was coming for the checkered, several cars tangled with Zach Raidart of Gurnee, IL flipping several times and other cars also tangling to avoid. All drivers communicated with track safety crew, but a couple were transported to a local hospital for further evaluation.
"That was fun," said Sivia, joined by his family including his wife and children, son Colin and daughter Kimberly. "Taters(Hafford) was in my wedding, and Ryan and I used to race go-karts together, and now we're battling in wingless sprints for the win. This was awesome. I have to thank all of my sponsors and crew, and my uncle who is here for the first time. This is great."
Salem's Ryan Johnson charged into the lead from the front row and was never headed despite battling some lapped traffic and two cautions toward the end of the Bandit 4-Cylinder Stock Car 20-lap main. Johnson scored his second feature win of the season holding off a fast closing Scott Ellis of Lake Villa, IL who took second. David McKellips of Mt. Pleasant was third. Pleasant Prairie's Scott Carpenter fourth. Salem's Austin Orth, Johnson's brother, was fifth.
"It was fun battling my brother for a while in the beginning, then the traffic made things a little tricky as did the track, as there was bite in it but it wasn't that easy to find," said Johnson, joined by his family in victory lane. "Getting three wide working the lapped traffic with McKellips was kind of wild just prior to that second to last caution. It worked for me though."
A huge fireworks display split the feature events much to the pleasure and excitement of the holiday crowd.
Next up for Wilmot Raceway is the 2nd Annual Larry Hillerud Memorial Badger 40 for the NOS Energy World of Outlaws Sprint Car Series on Saturday, July 8. The top 24 in points of the Wilmot Raceway Wisconsin Wingless Sprints are on the program plus the Pfeiffer Trailer Sales IRA Lightning Sprints rounding out the all sprint car show.
Grandstands open at 4 p.m. with on track activity getting underway about 5:30 p.m. and racing slated for 7 p.m. Pit gates open at 2 p.m.
All ticket sales including advance are being handled by contacting slspromotions.com.
---
Article Credit: Mike Babicz
Submitted By: Dakoda Tennyson
Article Media
Back to News