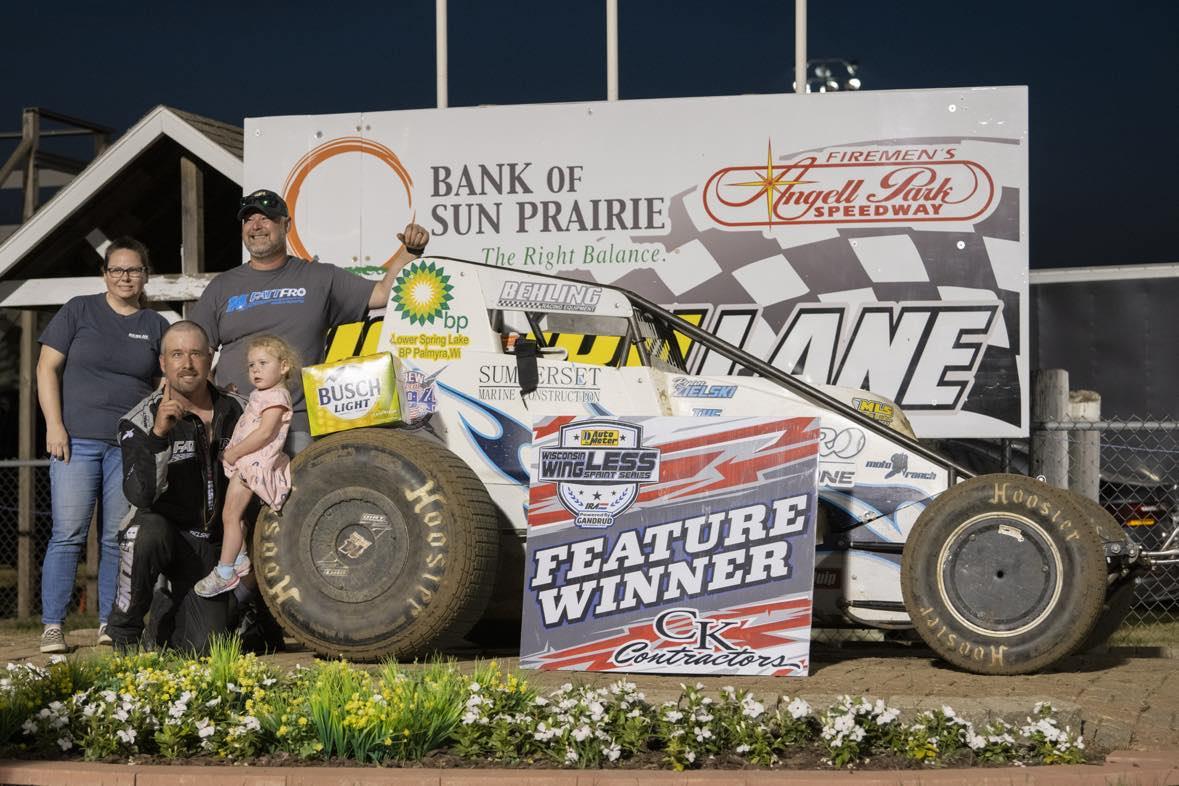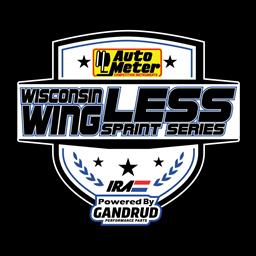 7/3/2023
Wisconsin wingLESS Sprints
---
Ryan Zielski Survives Late Race Fireworks to Win at Angell Park
Sun Prairie, WI (7/2/2023) - Ryan Zielski made the most out of the night and picked up his third feature win of the season with the AutoMeter Wisconsin WingLESS Sprints. Zielski had to race for the lead as well as survive a late race caution in route to the win at the historic Angell Park Speedway.
The previous night's feature winner Jimmy Sivia led a 22 car strong field for the wingless sprints second appearance at the track. Championship leader Clayton Rossmann, June 4th's winner Ryan Marshall, and many more packed the pits as the racing began.
Ryan Zielski led the way in qualifying with a time of 15.528 followed by Allen Hafford at a 15.763, Tim Cox with a 15.777, Chris Klemko with a 15.793, and Jimmy Sivia at a 15.907.
Three heat races followed with John Fahl picking up heat one with Ryan Zielski and Ryan Marshall behind him. Clayton Rossman won heat two as Allen Hafford and Jimmy Sivia followed. Tristan Furseth finished top of heat three with Rusty Egan second and Tim Cox third.
The AutoMeter A-Main saw Chris Klemko and Tim Cox start on the front row for the 20 laps. Klemko got the better start as he took the early lead. Second running Cox had to deal with the 14Z of Ryan Zielski but fell to third as Zielski made quick work of him. Zielski then set his sights on Klemko for the lead, working by the 70 on the highside of turn one on lap four. The 91 of Jimmy Sivia made his way up to second on lap ten and the 09 of Clayton Rossmann up into third. Sivia and Rossmann battled for second for a set of laps before the 09 sealed the deal for the spot. The race looked all but done as Zielski made his way around the track, but with one lap to go, the 57F of Tristan Furseth got out of shape down the back straightaway, hitting the inside fence and brought out the caution. During the yellow, the 7X of Ryan Marshall, June 4th's winner, slowed to a stop ending his night. Zielski had Rossmann and Sivia to deal with as a green-white-checkered ensued. Rossmann threw the kitchen sink at the 14Z but to no avail, as Ryan Zielski held off the challenge and picked up his third feature win of the season. Clayton Rossmann and Jimmy Sivia rounded out the top three, with Rusty Egan fourth, and hard charger Eric Wilke, up eight positions, in fifth.
The AutoMeter Wisconsin WingLESS Sprints return next Saturday, July 8th, at Wilmot Raceway, for the Badger 40 with the World of Outlaws also in attendance. The series returns for their third and final night at Angell Park Speedway July 30th. For more information visit wisconsinwingless.com or visit the series on Facebook today.
Photo Credit: Emily Schwanke
Summary
22 Entries
A Feature 1 20 Laps | 00:14:08.437
14Z-Ryan Zielski[4]; 2. 09-Clayton Rossmann[8]; 3. 91-Jimmy Sivia[5]; 4. 50-Rusty Egan[6]; 5. 24-Eric Wilke[13]; 6. 0-John Fahl[7]; 7. 70-Chris Klemko[1]; 8. 38-Allen Hafford[3]; 9. 40-Tim Cox[2]; 10. 99J-Seth Johnson[11]; 11. 22-Greg Alt[16]; 12. 4G-Daniel Graumenz[12]; 13. 29J-Ralph Johnson[14]; 14. 7D-Josh Davidson[18]; 15. 41-Dennis Spitz[17]; 16. 11-Austin Hansen[20]; 17. 7-Trinity Uttech[15]; 18. 13A-Dave Wallace[22]; 19. 29OG-Tom Eller[21]; 20. 15-Dan Wade[19]; 21. (DNF) 7X-Ryan Marshall[10]; 22. (DNF) 57F-Tristan Furseth[9]
Heat 1 8 Laps | 00:04:07.322
0-John Fahl[2]; 2. 14Z-Ryan Zielski[4]; 3. 7X-Ryan Marshall[1]; 4. 70-Chris Klemko[3]; 5. 29J-Ralph Johnson[6]; 6. 22-Greg Alt[5]; 7. 15-Dan Wade[7]; 8. 13A-Dave Wallace[8]
Heat 2 8 Laps | 00:04:33.830
09-Clayton Rossmann[2]; 2. 38-Allen Hafford[4]; 3. 91-Jimmy Sivia[3]; 4. 99J-Seth Johnson[1]; 5. 7-Trinity Uttech[6]; 6. 41-Dennis Spitz[5]; 7. 11-Austin Hansen[7]
Heat 3 8 Laps | 00:06:07.667
57F-Tristan Furseth[2]; 2. 50-Rusty Egan[3]; 3. 40-Tim Cox[4]; 4. 4G-Daniel Graumenz[5]; 5. 24-Eric Wilke[1]; 6. 7D-Josh Davidson[6]; 7. 29OG-Tom Eller[7]
Qualifying 1 | 00:02:55.917
14Z-Ryan Zielski, 00:15.528[14]; 2. 38-Allen Hafford, 00:15.763[8]; 3. 40-Tim Cox, 00:15.777[22]; 4. 70-Chris Klemko, 00:15.793[11]; 5. 91-Jimmy Sivia, 00:15.907[7]; 6. 50-Rusty Egan, 00:15.916[6]; 7. 0-John Fahl, 00:15.935[13]; 8. 09-Clayton Rossmann, 00:15.944[18]; 9. 57F-Tristan Furseth, 00:16.057[19]; 10. 7X-Ryan Marshall, 00:16.082[17]; 11. 99J-Seth Johnson, 00:16.089[21]; 12. 24-Eric Wilke, 00:16.161[20]; 13. 22-Greg Alt, 00:16.170[5]; 14. 41-Dennis Spitz, 00:16.201[16]; 15. 4G-Daniel Graumenz, 00:16.329[10]; 16. 29J-Ralph Johnson, 00:16.361[4]; 17. 7-Trinity Uttech, 00:16.470[9]; 18. 7D-Josh Davidson, 00:16.480[15]; 19. 15-Dan Wade, 00:16.693[3]; 20. 11-Austin Hansen, 00:16.729[12]; 21. 29OG-Tom Eller, 00:17.020[1]; 22. 13A-Dave Wallace, 00:17.088[2]
---
Article Credit: Zack Krueger
Submitted By: Zack Krueger
Back to News