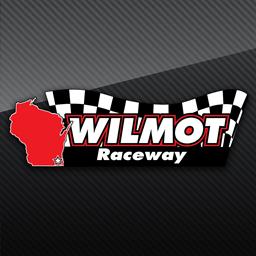 ---
Wilmot Championship Night!!!
Two first-time champions, one repeater, a four-time titlist and a three-time titlist all were crowned 2022 Wilmot Raceway Season Champions on Championship Night Saturday, September 3.
Pleasant Prairie's Mike Neau made it four out of five feature wins at Wilmot by taking the victory in the 25-lap Pfeiffer Trailer Sales IRA Lightning Sprints feature to solidify his first ever track championship. Neau took the lead from Oak Creek's Mark Heinert with 11 laps to go slicing through traffic at the same time. At the finish it was Neau followed by Heinert in second. C.J. Malueg of Johnsburg, IL was third. Tim Brannam of Holiday Hills, IL fourth. Franksville's Derek Fortier fifth.
"I saw Mark's line a lap before and decided to go for it," Neau said of his victory move. "It worked and for us to win and take the championship, too, it means a lot. I have to thank my Dad, my sister, my wife and my two sons, Carter and Grady, who got the night started by leading everyone in saying Let's Go Racing!"
"My dad, Dave, and my family, crew and sponsors, have stayed behind me the last 11 years I've been racing," said Cody Erickson of Algonquin, IL after capturing his first ever Wilmot Mountain Street Stock championship. "This is great. The Cadzilla has raced at the Bristol Dirt Nationals, and other tracks, and now it's won a championship. I have to thank Rob (Maule) for his support, especially the night I wasn't feeling well and he, along with his wife, Brooke, convinced me to race. And he's the one who was chasing me in the points. It shows how class of a person and race team they are."
Pell Lake's Cody Potter, won his second 20-lap Street Stock feature of the season, taking the lead three laps into the main event. Ironically, Maule was eliminated when he was involved in an opening lap tangle in turn two. Potter went on to the victory with Erickson ending up second. Salem's James Jaime was third. Pleasant Prairie's Josh Gehrig fourth. Robby Olson of Lindenhurst, IL fifth.
"This car runs a lot on asphalt, but it worked tonight," said Potter. "I missed the opening lap mess and was able to get out in front from there. I have to thank my dad, Landry, for his help in setting up the car and all of our sponsors."
John Cole of McHenry, IL worked into the lead from his front row starting spot, going on to his fourth feature win of the season in the 25-lap Bandit 4-Cylinder Stock Cars Season Championship main. Salem's Ryan Johnson ended up second in a tight battle for runner-up. Scott Ellis of Lake Villa, IL, took third place, good enough to score his second Wilmot championship in a row. Salem's Chris Abel was fourth. Rick Zifko of Aurora, IL fifth.
"I wish I hadn't missed that one night earlier in the year or we had one more points night," said Cole, admitting it could have put him in a closer battle with Scott Ellis at the end. "I congratulate Scott. I thank the folks who did the track prep as it was perfect for us. Staying green the final 17 laps was awesome, too."
Ellis credits his family, especially his Dad, Steve Ellis of Pleasant Prairie who also races in the Bandits, for all of his help in helping him secure a back to back championship.
The 20-lap Gerber Collision & Glass Modified Season Championship Feature stayed in the Simons family as Nick Simons of Genoa City captured his fourth main win of the year and second in a row.
Caution periods seemed to not be when you wanted to be in the lead. The leader during four separate yellow flags for various incidents was not the first place runner within a lap of the race going back green. Nick Simons used the high groove to overtake his older brother, Mike Simons, also of Genoa City, with three laps left on a restart. Nick Simons was up to one more challenge and did not let anyone get around him after a sixth and final caution two laps from the finish closed the field one last time. At the checkered it was Nick Simons the feature winner, who was undefeated in all nine of his heat race starts this season. Waterford's Mike Wittenburg took second in a tight finish. Mike Simons finished third to earn his fourth Wilmot season championship. Milwaukee's David Wirth was fourth. Bristol's John Dost fifth.
"We come here to race to win and let the points fall where they may," said Nick Simons, who finished second in the season standings for the fifth year in a row. "I have to thank my family, my sponsors, which include my brother's business, Mike's Flooring, and all of the great fans. Finishing second to Mike isn't all that bad."
"I which we could have run a little better, but I think we hurt the motor and were running on only seven cylinders," said Mike Simons of the championship run and his fourth title. "I hope the fans were entertained, because that's what we're here for. The fourth one doesn't feel any different then the first because we race to win, not points race. I have to thank all of our sponsors, my parents, my family, Jolyen and Trynity, and everybody who helps out."
The final race of the night saw the AutoMeter/Brewington Electric 20-lap feature go to Bristol's Chris Klemko. Klemko took the lead from his fellow front row starter Rusty Egan of Round Lake Beach, IL on the second lap. The only caution eight laps from the finish kept the field tight and eliminated lapped traffic from entering into the mix. At the checkered it was Klemko by less than a car length. Kansasville's Ryan Marshall was second. Allen Hafford of Beach Park, IL third. Clayton Rossmann of Wadsworth, IL fourth. Egan ended up fifth.
"It's been a rough year for us so to win on championship night is great," said Klemko, who became the seventh different WingLESS feature winner at Wilmot this season. "I have to thank all of our sponsors, the crew, my family, everyone who has stayed behind us through the challenges this year."
Tim Cox of Park City, IL finished sixth in the feature to secure his second Wilmot WingLESS championship and third type of Wilmot crown, having also won the 1989 Wilmot Modified Racing Association(MRA) title.
"Who would have known that 33 years after the first one we won, I'd be standing here again as a Wilmot champion, and the first to ever win two WingLESS titles," said Cox, joined by his family including his grandson in the victory celebration. "I have to thank my family, crew and all of my sponsors. This championship is for a dear friend of ours and member of the team, Wendy Chapleau-Suhling, who we lost to cancer this year. This championship is for her."
The final scheduled race night at Wilmot Raceway is the 5th Annual Jim "Wild Man" Watson Classic featuring the WABMAN Dirt Kings Late Model Tour on Saturday, September 10. AutoMeter/Brewington Electric Wisconsin WingLESS Sprints are on the program in a points event for their traveling series. Modifieds, Street Stocks and Bandit 4-Cylinder Stock Cars wind out the on track program for the 1/3-mile clay oval. A weather date is scheduled Sunday, September 11.
In addition, the traditional bike giveaway is scheduled with over 150 bikes to be given away to youngsters in the grandstands. Grandstands open at 4:00 p.m. with on track activity scheduled for 5:00 p.m. and racing slated to get underway about 5:30 p.m. Adult grandstand admission is $25.00 for everyone ages 12 & older, $5.00 ages 7-11, with ages 6 & under admitted free. The pits will open at 2:00 p.m. with all pit passes being $30.00.
For the latest information phone the Wilmot Raceway trackside race line 262-862-2090, or check the track web site wilmotraceway.com or official Wilmot Raceway Facebook page.
---
Article Credit: Mike Babicz
Submitted By: Dakoda Tennyson
Article Media
Back to News