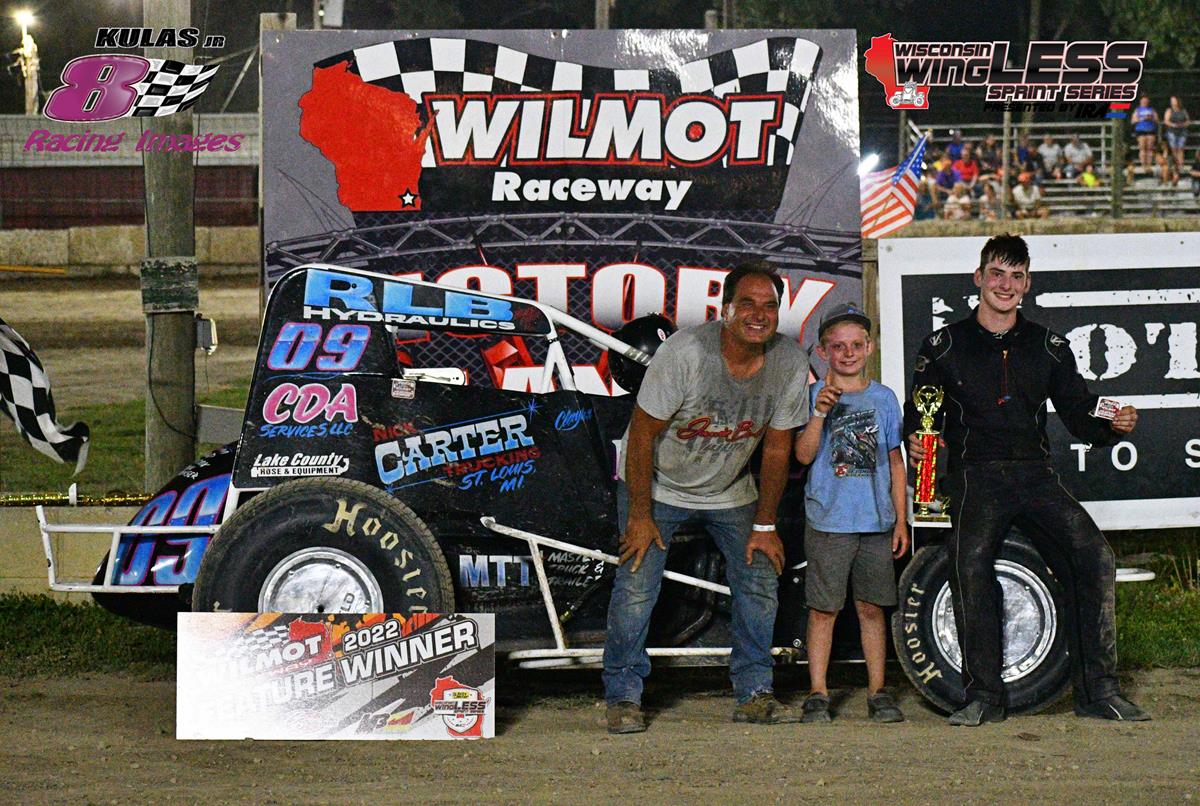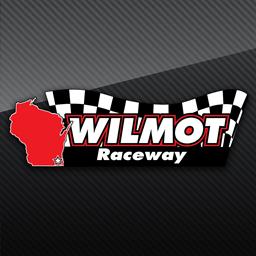 ---
Rossmann Tallies Another Win!!
Second Generation driver Clayton Rossmann of Wadsworth, IL captured his second consecutive 20-lap AutoMeter/Brewington Electric Wisconsin WingLESS Sprint feature at Wilmot Raceway on Saturday, August 6.
The 16-year-old Rossmann shot into the lead three laps from the finish as early leader Tim Cox of Park City, IL and Rusty Egan of Round Lake Beach, IL came together in turn four battling for the top spot. Cox took the initial lead and maintained it through a red flag for a flip by Ralph Johnson of Silver Lake in turn three two laps into the main. R. Johnson was not injured. Cox and Rossmann went wheel to wheel for several circuits as the laps wound down, including a pair of cautions with 16 and 8 laps left. On the final restart, it became a trio battling for the top spot until the Cox and Egan incident with Rossmann finding the open spot down low. The race stayed green with Rossmann taking the checkered flag followed by Johnny Fahl of Brown Deer coming on for second. Kansasville's Ryan Marshall, who started 17th in the 24-car field after winning one of the twin-B Mains, was third. Cox recovered for fourth with Egan fifth.
"This was great running with my hero as I was growing up," said Rossmann, after being greeted in victory lane with a big hug by the veteran Cox. "My family was here from out of town for the second time in a row, and they must think all I do is win. I don't know if I can get them to come back in two weeks(August 20) when we race here again. I have to thank everyone who has been helping out, my family, and Colin Sivia who has become my crew chief."
Rob Maule of Hebron, IL led wire to wire to become the fourth different winner of the season in the Wilmot Mountain Street Stock 20-lap feature. Maule was up to the late race challenges by a pair of cautions, one with six laps left and one which created a green/white dual flag restart to finish the event. A revised finish following a pair of post-race disqualifications for illegal cars had Maule in first, Cody Erickson of Algonquin, IL second, Robby Olson of Lindenhurst, IL third, Kenosha's Blake Kreuser fourth and Salem's James Jaime fifth.
"The car ran super and it's great to finally get a win this year," said Maule, joined by his adopted crew chief Colin Sivia, in victory lane. "I have to thank all of our sponsors and we're looking forward to one of them, Burlington Hobbies & RC Track which is giving away a RC Car valued at over $300 to a luckey fan who comes out to the opening fair night for the races on Wednesday, August 17. They will get a free ticket for a chance to win it that night just by coming to watch the races."
Genoa City's Mike Simons continued on his hot streak by winning his fourth Gerber Collision & Glass Modified 20-lap feature in a row and fifth of the season. The 3-time Wilmot champion continues to lead the point standings as the season winds down, as he led flag to flag. Cautions four laps into the main and with 11 laps to go kept erasing M. Simons larger advantage, but each time he was up to the challenge going on to the win. Milwaukee's Dave Wirth took second. Bristol's John Dost third. New Berlin's Brad McGuire fourth. Kenosha's Cory Lightfield a career best fifth.
"I hope this was a little more entertaining then last week when we had to call it short due to the curfew," said M. Simons, joined by his family in victory lane. "I wish I could have battled by brother longer(Nick Simons retired to the infield with mechanical problems while running second). We'll look forward to fair night now."
Pleasant Prairie's Mike Neau captured his second Pfeiffer Trailer Sales IRA Lightning Sprints 20-lap feature at Wilmot this season. Oak Creek's Mark Heinert took the early race lead maintaining it through a caution and a couple of red flags which ended up with a lot of torn up race cars but no injured drivers. Neau shot to the inside coming out of turn four powering into the lead with 11 laps remaining. A final caution at the midway point closed the field, but Neau was up to scoring the win. Heinert, a team car for Dream Chaser Racing which Neau drives for as well for his father, Larry Neau, took second. Franksville's Derek Fortier took third in a hotly contested battle. Max Brannam of Holiday Hills, IL finished a close fourth which was a career best finish for him. John Kirk of Johnsburg, IL was fifth.
"I saw the spot as Mark drifted high in the corner and went for it," said Neau. "I had been trying to run up there earlier and it didn't work for me, and it didn't work for Mark either so I kept to the low side. It's great to get a second win and we're looking forward to the fair night for us in two weeks(Saturday, August 20). We've only got a couple of points nights left(at Wilmot), so we'll see what happens."
Wilmot Raceway takes next weekend (Saturday, August 13) off as the facility is prepared for the upcoming Kenosha County Fair. The Kenosha County Fair opens Wednesday, August 17 with the grandstand being free for oval track racing that night featuring the Gerber Collision & Glass Modifieds, Wilmot Mountain Street Stocks and Bandit 4-Cylinder Stock Cars. The Bandits will run twin-features as the first race on the night will be their main event which was delayed from July 30 due to curfew. The Bandits pay is increased with the field already set as 1st place is paying $500, 2nd $200, 3rd $175 and a $75 hard charger bonus with the extra money being posted by sponsors CK Contractors, Johnny Z's Pour House, MLS Auto Clinic, Jordan Paulsen Racing and JLL Trucking. Grandstand admission is free on August 17. Persons coming into the grandstand will be eligible for the RC Car giveaway courtesy of Burlington Hobbies & RC Track. Racing is slated to get underway at 6:30 p.m.
Thursday, August 18 features the traditional truck and tractor pulls plus the combine demolition derby. Grandstand is free on August 18.
Friday, August 19 the main grandstand show is the T & C Rodeo along with fireworks concluding the program. Grandstand admission August 19 is $5 for everyone ages 12 and over, 11 & under admitted free.
Saturday, August 20 features the fair's traditional biggest night of all sprint car racing. The Bumper to Bumper Interstate Racing Association (IRA) Winged 410 Outlaw Sprint Cars will run for the Roger Iles Tribute presented by Carriage Auto Body of Waukegan, IL. The 5th Annual Bill Grogan Tribute will be the focus of a increased purse and special bonuses for the AutoMeter/Brewington Electric Wisconsin WingLESS Sprints. The Pfeiffer Trailer Sales IRA Lightning Sprints round out the fair special. Grandstands open at 5 p.m. with on track activity slated for 5:30 p.m. and racing to follow.
The fair concludes with the traditional demolition derby in front of the free grandstand on Sunday, August 21 beginning at 1:00 p.m.
For the latest Wilmot Raceway updates phone the trackside race line 262-862-2090, check the Raceway's website wilmotraceway.com or the official track Facebook page.
For Kenosha County Fair information phone the fair office 262-862-6121 or the fair website kenoshacofair.com or the fair official Facebook page.
---
Article Credit: Mike Babicz
Submitted By: Dakoda Tennyson
Article Media
Back to News