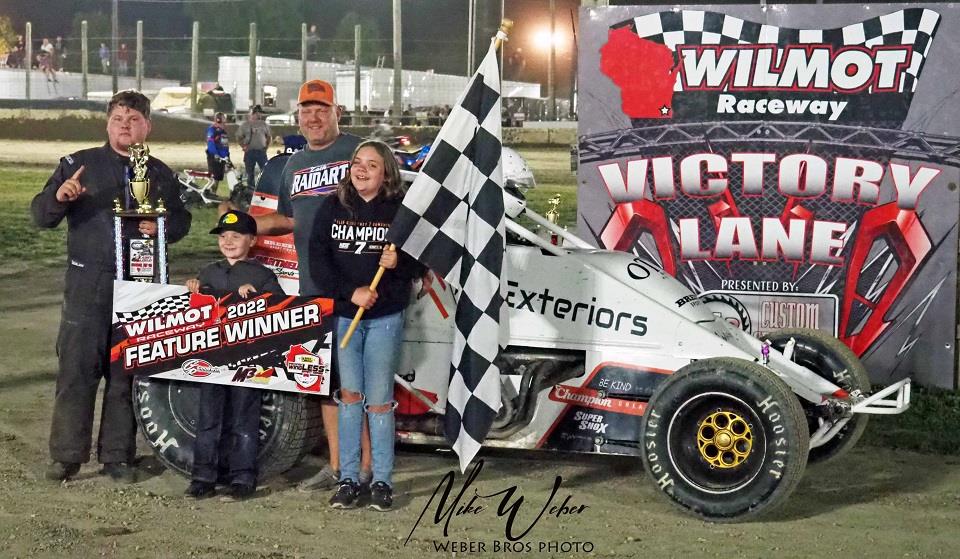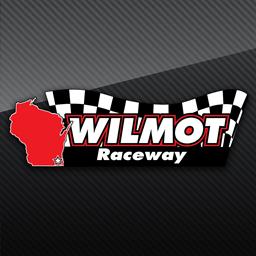 ---
Larry Hillerud Memorial Recap
Carson Macedo of Lemoore, CA capped off a memorable night before an overflow standing room only crowd by taking top honors in the Larry Hillerud Memorial Badger 40 for the national traveling NOS Energy World of Outlaws Sprint Cars on Saturday, July 9 at Wilmot Raceway.
"Larry was an incredible man. He had these race tracks on point every time we rolled into town and loved the sport so much.," said Macedo, who was joined by Larry Hillerud's widow, Sharon, and many of his family in victory lane. Larry Hillerud passed away earlier this spring with the night's program dedicated in honor of his legacy. The former Interstate Racing Association sprint car and Badger midget driver, among some other types of racing, Larry turned race promoter and was instrumental as part of the SLS Promotion team, in bringing the World of Outlaws sprint cars to a track which he often considered home for him as a driver.
The 24-car field had a four-car tangle bring out the red flag on the opening start attempt. Four cars involved including Spencer Bayston of Lebanon, IN, Scott Biertzer of West Bend, Robbie Price of Cobble Hill, British Columbia, Canada and Blake Nimee of Oswego, IL were all damaged beyond repair. None of the drivers were injured.
Donny Schatz of Fargo, ND, 10-time WO champion, took top spot on the restart from his front-row starting spot alongside Dash Winner Scotty Thiel of Sheboygan.
A second caution slowed the race a lap latter. On the restart, Macedo powered his Johnson Racing 41 into the lead and checked out on the field, slicing through lapped traffic as the remainder of the main event went caution free.
At the finish it was Macedo scoring his first Wilmot WO feature victory. James McFadden of Alice Springs, Northern Territory, Australia, finished second. Schatz took the final podium spot in third.
Brad Sweet of Grass Valley, CA was fourth. David Gravel of Watertown, CT fifth.
Sheldon Haudenschild of Wooster, OH was sixth. Thiel seventh. Kasey Kane of Enumclaw, WA eighth. Brock Zearfross of Joenstown, PA ninth. Jacob Allen of Hanover, PA completed the top 10.
Noah Gass of Mounds, OK won the 12-lap last chance race to make the show, starting 21st and improving nine positions to finish 12th as the feature's hard charger.
Zach Raidart of Gurnee, IL powered to the high side of turn four on the white flag lap to take the lead in the 20-lap AutoMeter/Wisconsin WingLESS Sprint feature, going on to become the fifth different main event winner at Wilmot this season in six starts for the division. Jimmy Sivia of Winthrop Harbor, IL, who held top spot from his front row starting berth in the 24-car field, ended up second. Tim Cox of Park City, IL was third. Clayton Rossmann of Wadsworth, IL took fourth. Burlington's Mike Sullivan completed the top five.
"It was a great win for our team on such a big night," said Raidart, who scored his first Wilmot win in two years. "The car hooked up at the right spot at the right time."
The race was red flagged six laps in when Ryan Marshall of Kansasville flipped high into the air in turn three. Marshall was not injured but out of action for the night. Sivia continued to lead on the restart with Raidart working his way into contention as the final 14 laps stayed green.
Pleasant Prairie's Mike Neau took the lead three laps from the finish on a restart in the 15-lap Pfeiffer Trailer Sales IRA Lightning Sprint feature, The restart followed a red flag when Delavan's Chris Quillman, who was not injured, got upside down in turn two. Neau overtook Union Grove's Andrew Kiedrowski for the point. Ironically, Kiedrowski had taken the lead from Slinger's Jeff Schmidt after a red flag for a multi-car tangle on the front straightaway at the halfway point which included the cars of Bristol's Adam Schroeder and Tim Brannam of Holiday Hills, IL both getting upside down. Neither driver was injured.
Neau was followed by Kiedrowski in second. C.J. Malueg of Johnsburg, IL third. Schmidt fourth. Hales Corner's Kevin Frederiksen fifth.
"That was a fun race," said Neau, part of the Dream Chaser Racing Team which his father, Larry Neau, owns. "I dedicate this win to my sons and wife who couldn't be here. This is our second win of the season for the series, but first here at Wilmot since we finally got a race in with all of the bad weather we've had this spring. I can't wait to get back next week."
Next up for Wilmot Raceway is Family Night on Saturday, July 16 featuring the WingLESS Sprints, Lightning Sprints, Modifieds and Street Stocks. Grandstands open at 5 p.m. with on track activity at 5:45 p.m. and racing slated for 6:30 p.m. Grandstand admission is $15.00 for everyone ages 12 and over, while all children ages 11 and under will be admitted free.
Pit passes are $27.00 with the pits opening at 3:00 p.m.
The traditional Founders Night for the Bumper to Bumper Interstate Racing Association(IRA) Outlaw Sprints is scheduled for Saturday, July 23. The night honors the three individuals, Whitey Harris along with the late Ray Toft and late Junior Dodd, who founded the IRA over 50 years ago with Wilmot having been the original home of sprint car racing in Wisconsin.
Modifieds, Street Stocks and Bandits are on the July 23 program as well.
Advance tickets for Wilmot Raceway events are available on the track website at wilmotraceway.com. Trackside updates are available on the raceline 262-862-2090 or by checking the official Wilmot Raceway Facebook page.
---
Article Credit: Mike Babicz
Submitted By: Dakoda Tennyson
Article Media
Back to News