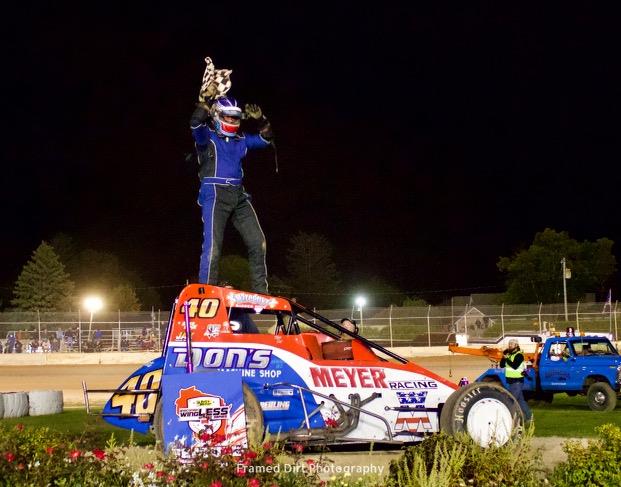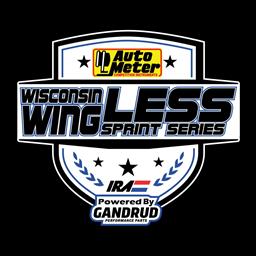 9/26/2021
Wisconsin wingLESS Sprints
---
Tim Cox Wins at Plymouth Sprintacular
After a Dodge Country fair grounds rain out on Friday night, all three series under the Interstate Racing Association banner, the Bumper to Bumper winged 410s, the Auto Meter Wisconsin wingLESS series and then IRA Lightning Sprints all defended upon the Plymouth Dirt Track for the 4th Annual Wisconsin Sprint Car Championships.
In the wingLESS division, as has become the normal for championship night, the top 10 in points were locked into the feature and the rest of the field was broken into 2 qualifying races taking the top 5 in each, and then a B main taking the top 4 to set the 24 car starting field. Nathan Crane and Natalie Klemko won their qualifiers while Mike Sullivan won the B main.
The feature saw two stories play out as Tim Cox and former series champion found himself out front and working to stay there while behind him Ryan Zielski and Ryan Marshall who started side by side in row 3 were separated by only 14 points heading into the feature. The pair battled each other as well as Jimmy Sivia and Chris Klemko. Ryan Zielski knew he needed to win if he wanted to claim the championship, but all Ryan Marshall needed was to finish inside the top 5. It seemed a top 5 finish wasn't good enough though for the Kansasville kid as he waged war with Sivia and Zielski for 2nd through 4th. When the checkered flag flew Tim Cox was victorious on the night, but it was Ryan Marshall who claimed the championship with a third place finish.
---
Article Credit: Gared Tennyson
Submitted By: Kim Tennyson
Back to News