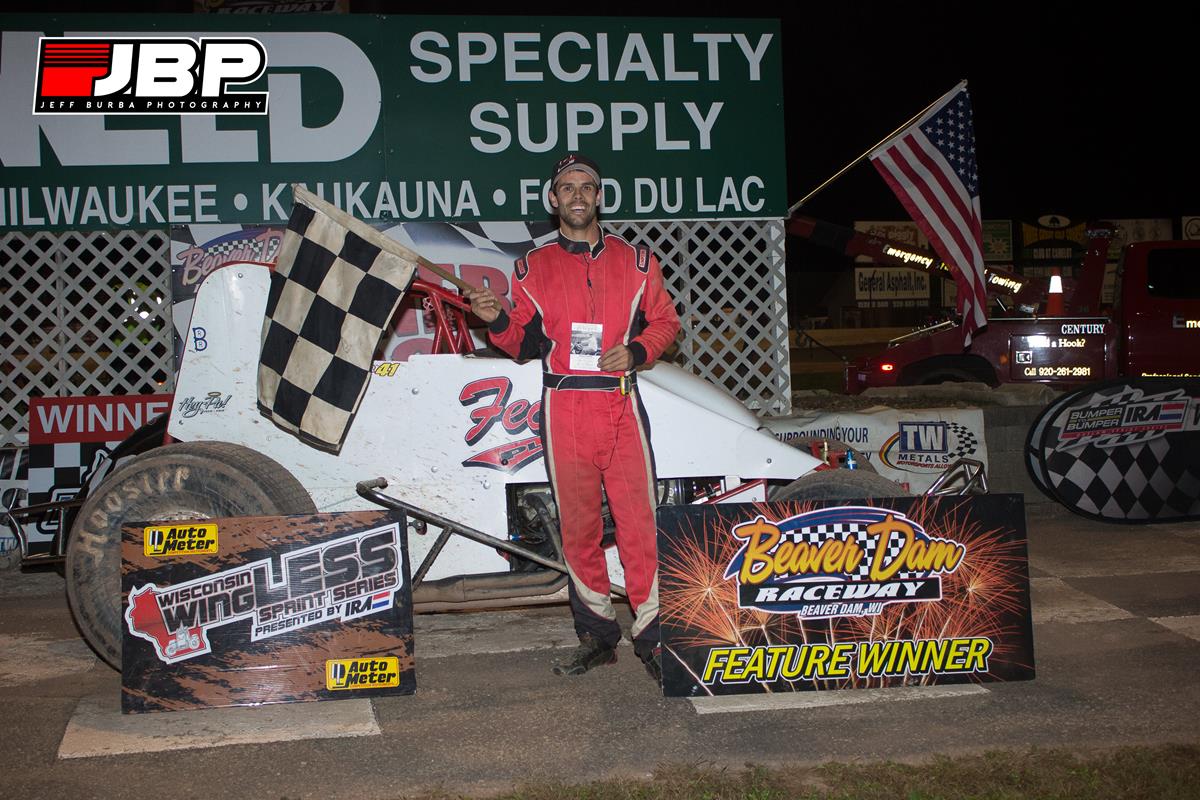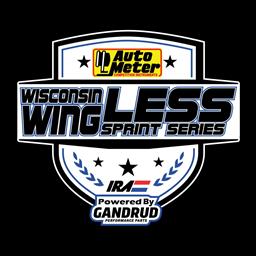 9/24/2018
Wisconsin wingLESS Sprints
---
Vandervere Takes the Win At Beaver Dam
Matt Vandervere charged from a 6th place starting position to the win in the Wisconsin wingLESS series presented by the IRA feature.
33 AutoMeter Wisconsin wingLESS series presented by the IRA sprint cars signed in for the Scott Semmelmann Memorial at Beaver Dam Raceway. Craig Campton set quick time over Jake Kouba. Jordan Mattson timed in 3rd with Derek Crane in 4th and Craig Lager in 5th.
Chris Dodd picked up the win in heat race 1 over Craig Campton. Craig Lager finished in 3rd with Rod Colburn in 4th and Vince Bartolotta in 5th.
Heat race number 2 was claimed by Allen Hafford over Matt Vandervere. Greg Olson brought his 9 machine home in 3rd followed by Zack Raidart and James Walldan.
Heat 3 was exciting as Jordan Mattson charged from 4th to the lead in route to victory. Tim Cox and Ryan Zielski were 2nd and 3rd. Jimmy Sivia finished 4th in his 91 followed by Jimmy Kouba.
The 4th and final heat race was claimed by former champion Doug Schenck over Derek Crane. Randy Stanford finished 3rd aboard his 29 followed by Shawn Swim and last weekends feature winner Dennis Spitz.
Nathan Crane picked up the B main victory over Minnesota's Jake Kouba. Johnny Fahl came home in the 3rd position while Cris Klemko grabbed the 4th and final transfer position.
A main competition saw Matt Vandervere charge from the 6th position to the lead in route to his 2nd wingLESS victory at Beaver Dam Raceway. 8th starting Derek Crane drove his Pea Pod sponsored machine to 2nd followed by Doug Schenck and Jordan Mattson. Craig Lager rounded out the top 5 in his 52 machine.
A Feature 1 25 laps | 00:22:07.730 Presented by Autometer
15V-Matt VandeVere, 22:07.730[6]; 2. 19K-Derek Crane, 22:09.634[8]; 3. 71S-Doug Schenck, 22:10.589[1]; 4. 2-Jordan Mattson, 22:10.629[9]; 5. 52-Craig Lager, 22:11.138[7]; 6. 40-Tim Cox, 22:11.511[11]; 7. 01-Chris Dodd, 22:12.086[3]; 8. 9-Greg Olsen, 22:12.697[12]; 9. 29-Randy Stanford, 22:13.728[4]; 10. 97-Nathan Crane, 22:13.992[21]; 11. 1-Rod Colburn, 22:15.186[14]; 12. 12-Shawn Swim, 22:15.744[16]; 13. 7S-Craig Campton, 22:17.064[10]; 14. 41-Dennis Spitz, 22:17.349[18]; 15. 70-Chris Klemko, 22:17.607[24]; 16. 0-John Fahl, 22:18.100[23]; 17. 2K-Jimmy Kouba, 22:19.211[17]; 18. 70K-Jake Kouba, 22:19.428[22]; 19. 38-Allen Hafford, 22:19.729[2]; 20. 91-Jimmy Sivia, 22:20.649[13]; 21. 6B-Vince Bartolotta, 22:20.960[20]; 22. 21-Ryan Zielski, 22:22.906[5]; 23. (DNF) 23Z-Zach Raidart, 10:32.077[15]; 24. (DNF) 77-James Walldan, 10:17.525[19]
B Feature 1 12 laps | 00:06:27
97-Nathan Crane, 06:27.554[2]; 2. 70K-Jake Kouba, 06:31.295[1]; 3. 0-John Fahl, 06:36.166[3]; 4. 70-Chris Klemko, 06:36.470[10]; 5. 4-Jordan Paulsen, 06:36.740[6]; 6. 18-Nick Petska, 06:38.039[5]; 7. 94-Jim Wehrman, 06:38.623[7]; 8. 22-Bruce Waterworth, 06:40.246[4]; 9. 29OG-Tom Eller, 06:40.469[9]; 10. 20-Natalie Klemko, 06:42.287[11]; 11. 00-Paul Shaffer, 06:29.474[13]; 12. 15-Dan Wade, 06:30.163[8]; 13. 39-William Huck, 06:32.278[12]
Heat 1 8 laps | 00:03:24
01-Chris Dodd, 03:24.237[2]; 2. 7S-Craig Campton, 03:27.872[4]; 3. 52-Craig Lager, 03:34.566[3]; 4. 1-Rod Colburn, 03:35.571[6]; 5. 6B-Vince Bartolotta, 03:35.840[9]; 6. 0-John Fahl, 03:36.081[5]; 7. 97-Nathan Crane, 03:36.263[1]; 8. 70-Chris Klemko, 03:37.501[8]; 9. 00-Paul Shaffer, 03:39.910[7]
Heat 2 8 laps | 00:04:09
38-Allen Hafford, 04:09.433[2]; 2. 15V-Matt VandeVere, 04:11.403[3]; 3. 9-Greg Olsen, 04:14.887[1]; 4. 23Z-Zach Raidart, 04:16.064[6]; 5. 77-James Walldan, 04:17.617[5]; 6. 70K-Jake Kouba, 04:17.676[4]; 7. 4-Jordan Paulsen, 04:19.753[7]; 8. 20-Natalie Klemko, 04:23.858[8]
Heat 3 8 laps | 00:03:20
2-Jordan Mattson, 03:20.776[4]; 2. 40-Tim Cox, 03:24.089[2]; 3. 21-Ryan Zielski, 03:24.480[3]; 4. 91-Jimmy Sivia, 03:25.439[5]; 5. 2K-Jimmy Kouba, 03:26.742[1]; 6. 18-Nick Petska, 03:28.592[6]; 7. 94-Jim Wehrman, 03:32.417[7]; 8. 39-William Huck, 03:36.300[8]
Heat 4 8 laps | 00:03:57
71S-Doug Schenck, 03:57.060[2]; 2. 19K-Derek Crane, 03:59.031[4]; 3. 29-Randy Stanford, 04:00.488[3]; 4. 12-Shawn Swim, 04:00.801[6]; 5. 41-Dennis Spitz, 04:01.979[1]; 6. 22-Bruce Waterworth, 04:08.431[5]; 7. 15-Dan Wade, 04:08.529[8]; 8. 29OG-Tom Eller, 04:12.222[7]
Qualifying 1 00:13:52
7S-Craig Campton, 00:16.446[8]; 2. 70K-Jake Kouba, 00:16.455[2]; 3. 2-Jordan Mattson, 00:16.503[4]; 4. 19K-Derek Crane, 00:16.604[1]; 5. 52-Craig Lager, 00:16.650[6]; 6. 15V-Matt VandeVere, 00:16.740[9]; 7. 21-Ryan Zielski, 00:16.753[14]; 8. 29-Randy Stanford, 00:16.779[12]; 9. 01-Chris Dodd, 00:16.783[5]; 10. 38-Allen Hafford, 00:16.839[16]; 11. 40-Tim Cox, 00:16.902[19]; 12. 71S-Doug Schenck, 00:16.981[31]; 13. 97-Nathan Crane, 00:16.992[23]; 14. 9-Greg Olsen, 00:17.012[11]; 15. 2K-Jimmy Kouba, 00:17.016[10]; 16. 41-Dennis Spitz, 00:17.051[33]; 17. 0-John Fahl, 00:17.087[3]; 18. 77-James Walldan, 00:17.119[7]; 19. 91-Jimmy Sivia, 00:17.203[21]; 20. 22-Bruce Waterworth, 00:17.315[15]; 21. 1-Rod Colburn, 00:17.336[25]; 22. 23Z-Zach Raidart, 00:17.367[18]; 23. 18-Nick Petska, 00:17.535[32]; 24. 12-Shawn Swim, 00:17.613[29]; 25. 00-Paul Shaffer, 00:17.678[27]; 26. 4-Jordan Paulsen, 00:17.810[28]; 27. 94-Jim Wehrman, 00:17.845[24]; 28. 29OG-Tom Eller, 00:17.887[20]; 29. 70-Chris Klemko, 00:17.940[30]; 30. 20-Natalie Klemko, 00:17.982[26]; 31. 39-William Huck, 00:18.110[13]; 32. 15-Dan Wade, 00:18.223[22]; 33. 6B-Vince Bartolotta, [17]
---
Submitted By: Kim Tennyson
Back to News